Have you been thinking about advertising your business with dramatic window graphics in Lewisville TX? If so, you are in good company. Case in point is Lone Star Taps & Caps at 4740 State Highway 121. With a tagline that reads, "Your Craft Beer Heaven in Texas," you know that this company has a loyal niche following. With 50 different craft beers on tap, the availability of growlers to go has had some folks likening the business to the "Starbucks of beers."
When the business' management team wanted to draw more attention to its Lewisville location (while branding the locale and showing off a quirky wayfinding sign), its representative contacted our sign experts for help. After consulting with our client, we created window graphics that depict the look of beer being served from a tap. The tap takes up the upper portion of the window glass while the beer is at the bottom. The display uses two glass panels, and it is impossible for thirsty customers to miss the signage.
Using Window Graphics for Wayfinding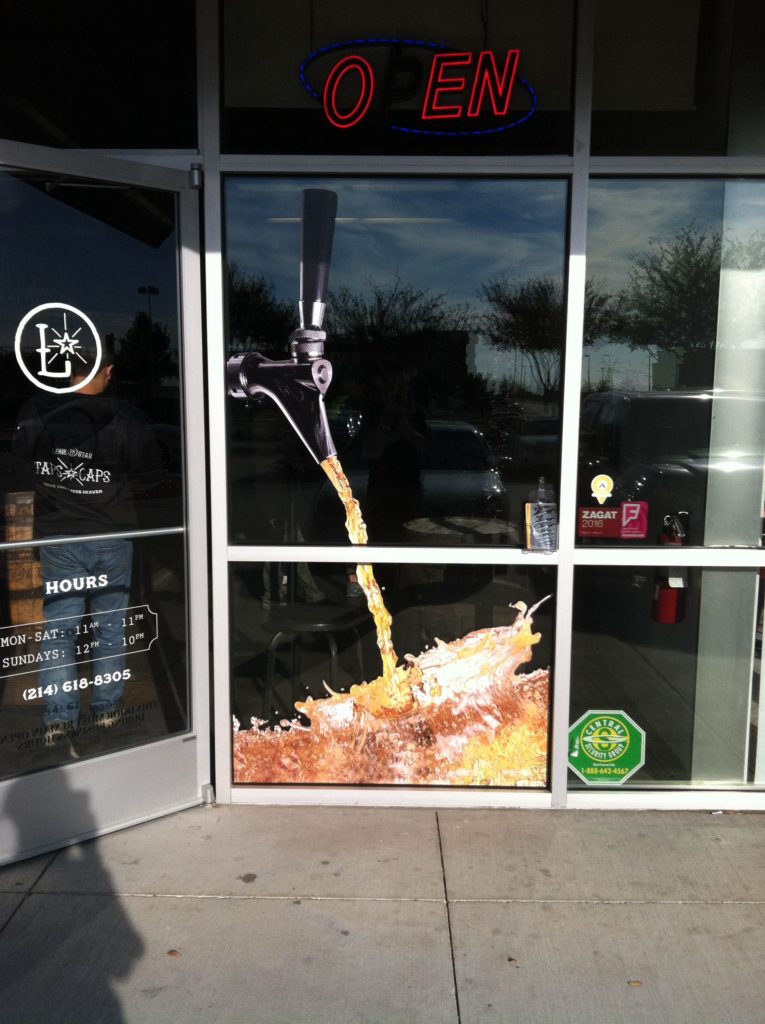 Wayfinding assistance is a must for first-time customers. Nothing frustrates prospective shoppers more than not being able to find their destinations. Occasionally, the setup of shopping centers makes it difficult to find the smaller venues that may not take up two to three storefronts. At other times, it is the fact that a business is in a particular niche that can make it difficult to find. A first-time shopper may not know what to look for. This quandary makes the use of window graphics so advantageous for the store owner who wants to prevent lost sales opportunities. You have the chance to present your niche with a business-specific image while drawing attention to the location.
Advertising Products with Vinyl Window Lettering and Graphics
But even if shoppers have no problem finding the business, you can still benefit from the use of niche-specific graphics and messages on your window panes. For starters, they encourage the impulse buy. After all, a customer may not have thought of buying widgets, but seeing your advertising, making the conversion from a shopper to a buyer is possible. Also, remember that some consumers may not have intact brand awareness concerning your business.
When they notice the vinyl image that depicts a product they need, these shoppers may visit your location to save themselves another errand to a different location. This experience, of course, offers the opportunity to have another loyal customer in the future. At that time, interior signage succeeds in communicating further with the buyers; examples of possible signs include point of purchase (POP) products, informative banners, and sales notices.
Ordering Window Graphics in Lewisville TX
If we have convinced you to give vinyl graphics for window display purposes another look, discuss your thoughts with our signage specialists. We incorporate any artwork you already have on file or create something entirely new from scratch. Whether you would like something elegant, quirky, or anything in between, we can help.
Call us today to schedule a creative consultation!