Located at 704 Central Parkway East in Suite 1200A, Critical Electric Systems Group, LLC (CESG) supports facilities' electrical needs that start in the pre-construction phase and go beyond. The experts not only design systems but also install and modify them as needed. When the company recently rebranded, it gradually changed its signage. To make changes to its custom fleet graphics in Plano TX, its management team contacted our specialists.
After meeting with the client and receiving the new graphics, we created designs that display the business' logo and full name. We added the phone number and website address. We manufactured decals and lettering that we mounted to the right rear of the work trucks' tailgates and onto the doors. Now, the business' fleet features an appearance that harmonizes with the rest of its signage.
Why Do Companies Rebrand?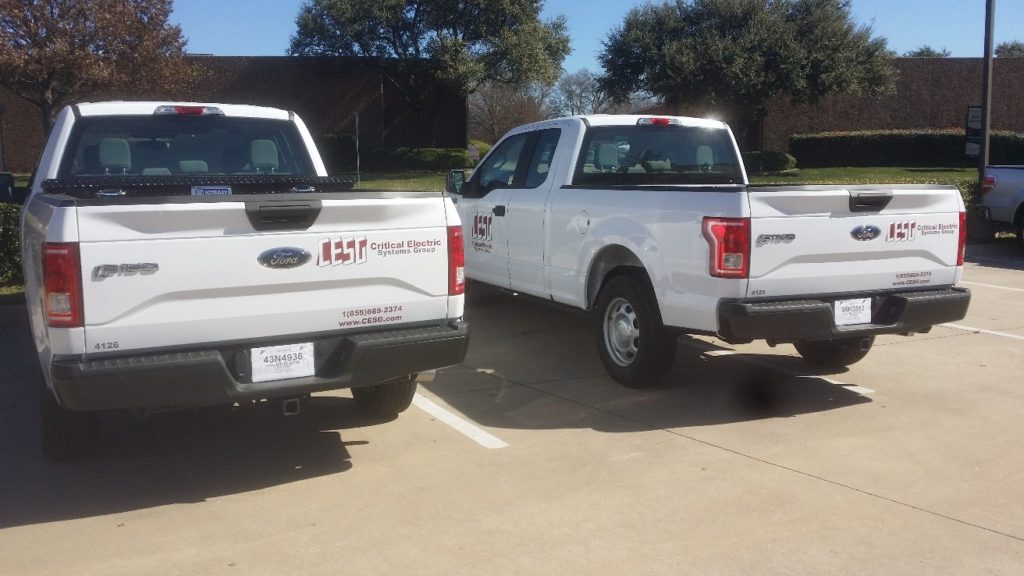 When an established business changes the look of its brand identity, it may seem like a logistical nightmare. There are signs to change out, social media campaigns to plan, and a host of other announcements that need to be made. Why do companies go through this trouble?
Changing market conditions. When you opened your doors, an elegant look was in for those in your niche. Now, perhaps a decade or two later, your targeted demographic responds to edgy appearances rather than what you currently feature. Remaining relevant requires a tweak to the color palette, a change to the logo, and maybe even some alterations to the name's presentation.
Changing business strategy. When a new vehicle dealership decides to switch gears and court the motorcycle customer instead, it is time to update the brand.
Changing ownership or management. Company buy-outs, mergers, and the integration of a new product portfolio result in the need for a whole new look. Typically, business owners who undertake a rebranding in this situation will keep style elements from both brands intact to support name and product recognition by the customers of the old companies. When the images combine to create something new, the overhauled brand is born.
Order Custom Fleet Graphics in Plano TX, after Rebranding Interior Signs
When clients contact us with questions about a rebranding, we always suggest the following order of product overhauls:
Lobby sign and associated reception area markers.
Building signs and exterior markers.
All remaining interior signs.
Vehicle graphics and wraps.
By making changes to the vehicles last, you take your new brand message to a broad audience. The customer who visits your location because of the images s/he saw on your work truck should see the same signage in place on the outside as well as the inside. If you start with the vehicle graphics, you may run into a problem when the consumer does not readily recognize your brand once s/he arrives at your location.
Contact our graphic artists to discuss your rebranding needs. We gladly handle all of your interior and exterior signage solutions as well as any vehicle graphics that need to be updated. Call us today to set up a consultation.