Grow Your Business Using Signs
Signs are one primary way business communicate their business name, products, services, and value to their clients and prospects. Signs should be an integral part of any marketing plan. Your signs are one big way to communicate who you are and where you are located. Signs can guide clients or prospects to you, provide them with a positive experience with you, and present your products and services for sale. To help you use signs effectively, here are 4 ways to increase your sales using signs: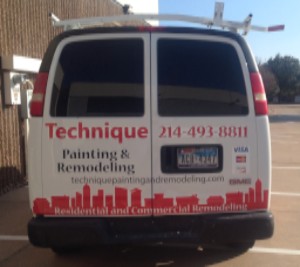 Vehicle Wraps & Graphics
1. Use a moving billboard.
Generate new leads from the thousands of people who see your vehicle every day. If you have a mobile business, a home-based business, or sales and service vehicles, a vehicle wrap or graphics can generate new leads for you – every day. Consider the number of miles your vehicle is on the road, parked, or on site and the amount of exposure your messaging will get. Make your phone number and website address big and easy to read…and easy to remember. That way prospects can contact you quickly and safely. Communicate to your staff that calls or emails may come in response to your vehicle graphics. Be sure they are prepared to answer those inquiries. And, let the leads roll in!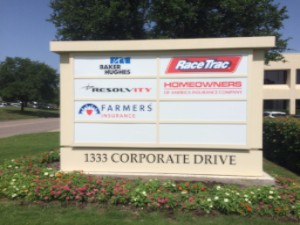 Monument Signs Are One Option
2. Be easy to find.
Do customers often say that you are hard to find? How many prospects just gave up before they found you? Be easy to find with a bright building sign, directional signs, monument sign, wayfinding signs, visitor parking, "Entrance" signs, and many more. These signs help your customers and prospects quickly find you. They help customers find parking and come in to shop or conduct business with you. And, after all your efforts to connect with new clients and prospects, you don't want to then be hard for them to connect with you. Signs help you be easy to find and do business with. This also applies to your online presence as well. You need to be visible to all of your customers, otherwise, they're going to go somewhere else. The increasing rise in social media platforms can help you engage with a bigger audience. For example, you can now post an image on Instagram and thousands of instagram followers will see it in seconds. Of course, it's not just your followers that will see your posts either. By using some hashtags, your posts could reach the explore page on Instagram. This should ensure that your posts reach many more people, hopefully giving you more of an audience. If you'd like to try and use some hashtags, it might be worth using a hashtag generator to ensure you find the most popular and relevant hashtags to grow your audience. Instagram's abilities don't stop there either. It can also introduce you to a new demographic. You can also use bio to share your content more on the web and even put an Instagram link on bio, connecting your platforms.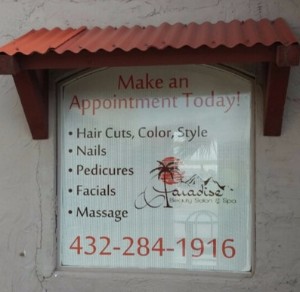 Promotional Signs Promote You
3. Use "show and tell".
Promotional posters, window clings, sandwich boards, feather flags, banners, portable signs, tents, air dancers and other promotional signage can tell your story and generate new online businesses. As people come and go in an area they can become "blind" to you and your messaging. To continue to attract attention, it is best to change up your messaging and use a variety of things to communicate it. By making changes and using fresh signage, propsects "see" you again and they can respond to your special offer, product promotion, event, or another message. In the end, this can help you increase your sales – both from new customers and ones that have been your customers for a long time but had just stopped noticing you.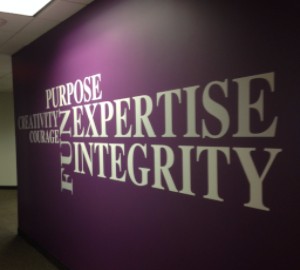 Mission, Vision, Values Sign
4. Look like you are the best choice.
Lobby signs, suite signs, mission/vision/ values signs, safety signs, and other signs show that you are professional and up-to-date and make you look like the best choice for your clients. Once you've caught the attention of your clients, drawn them in with your promotion or special offer, and helped them have a positive experience with you from the road to the parking lot to the entrance now show them you are the best choice for them. Effective signage is well placed, sized appropriately for the space, and has an impactful message and/or look. Looking like the best choice for your clients can help you increase your ability to close the sale.
Call us today at 972-915-6970 or email us at [email protected] for a free marketing consultation and let us help you use signs to increase your sales.