You find Britt's Sno House at 5105 Colleyville Boulevard in Colleyville, TX. Closed between the middle of October and March, the business recently opened its doors again for the spring and summer seasons. The company is famous for its shaved ice and delicious flavors it has served up since 2010. In the past, the company placed new flavor notices with handwritten notes on its windows. Recently, the management team contacted our business sign experts to discuss the design and installation of a menu board in Colleyville TX.
Organizing Numerous Flavors with an Attractive Menu Board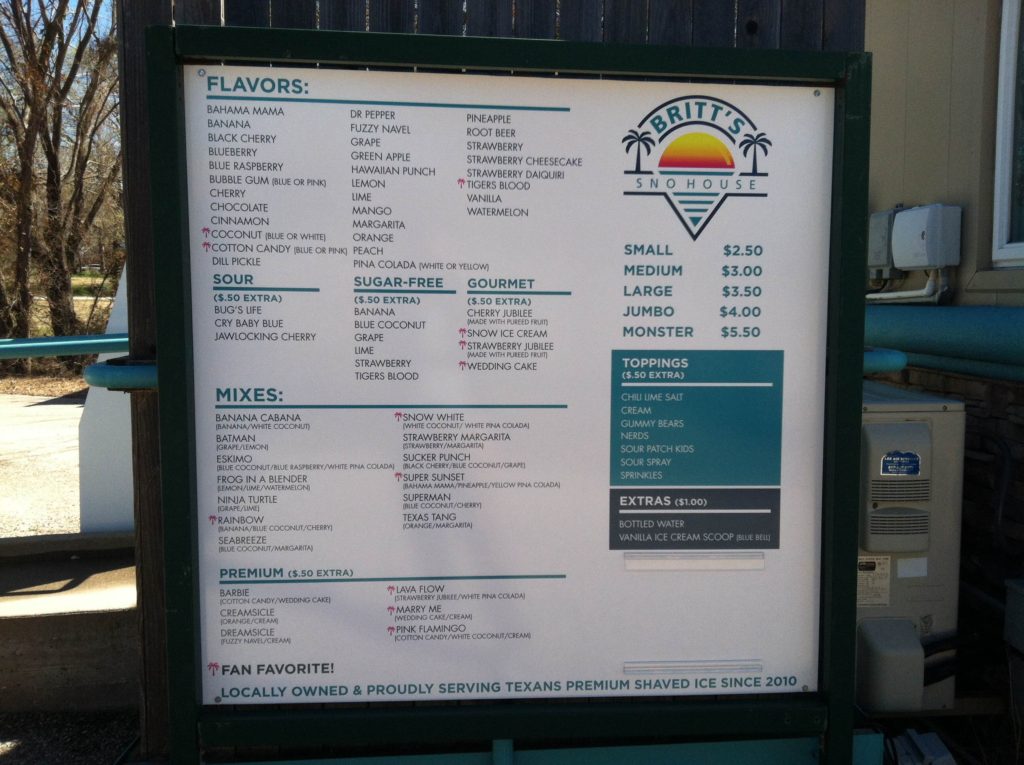 The new menu board organizes the company's products and makes it easier for guests to select their favorites. We created a white backdrop that features dark lettering, indicated the fan favorites, and groups products in sections. The layout also identifies sizes and prices as well as add-on costs for extras such as chili lime salt or gummy bears.
The board is framed and placed in a post and panel setup. When you look closely, you will notice that there is a set of small tracks on the board's lower right, which gives our client the opportunity to create and display promotional flyers for special events. This level of customization is ideally suited for Britt's Sno House where new flavors make frequent appearances. Customers are sure to love the new setup now that the season is in full swing again.
Guests Appreciate Menu Boards; Owners Like Their Versatility
For Britt's Sno House, we added the tracks so that the management team could print, laminate, and feature announcements right there on the main board. When we did a pink and white menu board for Rejuv Juice in Hurst, TX, we followed the design guidelines of the client to achieve a well-organized look that perfectly encapsulates the brand message of the business. Because the management team at this venue wanted something that it could uninstall and reinstall as needed after adding new flavors, we customized the installation mechanism to feature eye hooks.
We have noticed that guests at local eateries and smaller establishments appreciate menu boards because they outline the various options that are available. Do not let the smaller sizes of some businesses fool you! These locales feature copious choices, add-ons, and flavor enhancers that easily confuse a first-time guest. Of course, with a well-designed menu board in place, there is no more confusion.
The owners of the establishments like the little extras we can add to the design. These are small but pack a powerful punch when it comes to letting business managers use the signage with in-house customization. Because we routinely work with small, mid-sized, and large companies, we can accommodate any of these requests.
Do You Need Restaurant Signage?
Whether you need a menu board in Colleyville TX, or a set of building letters anywhere else, we can help. Contact our graphic artists to discuss your plans. We assist you with all aspects of the design creation, manufacturing, and installation. When required, our experts also handle the permitting process. Call us today to schedule a consultation!