If you have had a thirst for organic juices that are made fresh and bottled in glass, head over to 1349 Precinct Line Road. The friendly folks at Rejuv Juice customize cold-pressed juice products that have none of the artificial preservatives you do not like. Instead, they have the vitamins and nutrients that you love. You may remember that we designed, manufactured, and installed a channel letter sign for this business before. When the company now needed a menu board sign in Hurst TX, its management team contacted us again for assistance.
Pink and White Menu Board Assists Customers with Juice Selections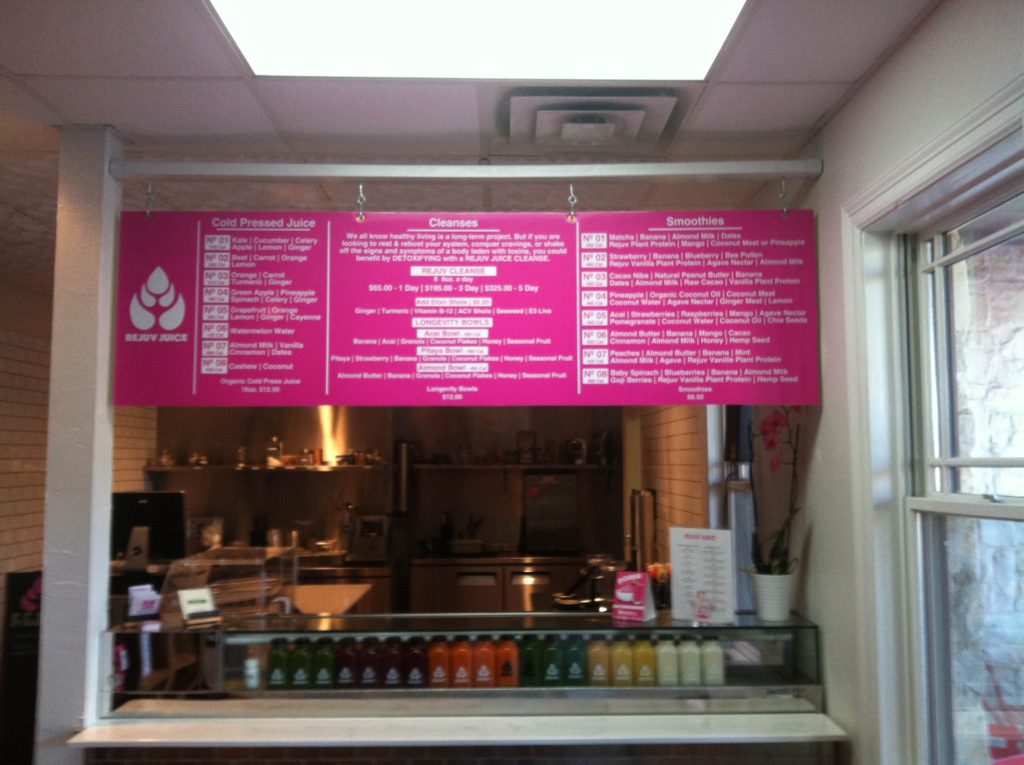 When entering Rejuv Juice, a new menu board now welcomes customers. It features the company's corporate color palette and logo. White lettering spells out the available juices, cleanses, and smoothies. We designed the product to hang suspended from eye hooks, which attach to an attractive aluminum beam. Our sign specialists custom-made the board and hanging bar system for the client.
Because she wanted to be able to update the product options quickly while keeping costs low, she now has access to the board and can uninstall it when she receives a new one from us. This setup provides the business owner with a quick and easy solution that could have otherwise cost a pretty penny.
Do Not Leave Your Menu Board Design to Chance
There are plenty of designs for menu boards. But not all of them work well. While they may make perfect sense to the business' owner, they confuse the customer. When we consult with our clients, we usually stress three distinct qualities a good display should feature.
Product descriptions. The sometimes playful names of foods or drinks do not mean a lot to the guest. Follow up a fanciful moniker with a brief description that lists ingredients. Be detailed without overwhelming the consumer.
Feature organization. Rather than listing products in alphabetical order or by cost, group them into features. For example, Rejuv Juice put its cleanses separately from the smoothies, which makes sense to the consumer.
Readable font. Curlicues have no place on menu boards. Because you want the lines of guests waiting for their turns to move smoothly, the font should be easy to read from a short distance away. Doing so also works in your favor when listing prices. If a customer mistakes a low price for a higher one simply because the numeral display is confusing, you may lose sales.
Working with experts in the field of board design eliminates many of the mistakes that could mar an otherwise excellent presentation.
Buy Hospitality Signs for Your Restaurant, Café, Juice Bar, or Fast Food Franchise Today!
Whether you need a menu board sign in Hurst TX, or want a building sign, wall graphics package, vehicle wrap, or anything else for your hospitality business, we can help. Contact the visual artists at High Value Signs & Studio. We serve the business communities in and around Grapevine, Flower Mound, Irving, Coppell, and Lewisville. Call us today to discuss your project!