Previously, we worked with Orangetheory Fitness at 624 East Southlake Boulevard to put up a custom channel letter sign. While continuing the work on getting the location ready for opening day, the building inspector scheduled a time to visit the site. As you probably know, these officials not only check for safety issues but also ensure the presence of compliant ADA signage in Southlake TX.
Our client contacted us just before the inspection appointment to ensure that the company's markers would be in place. Following the rules of the Americans with Disabilities Act (ADA), and incorporating the client's corporate color palette, we put this job through as quickly as possible. It features raised letters and Braille II dots alongside a vinyl print. We mounted the latter to the back of a transparent, non-glare piece of acrylic. The product fits in perfectly with the rest of the fitness club's ambiance and overall look.
Compliance is Not Optional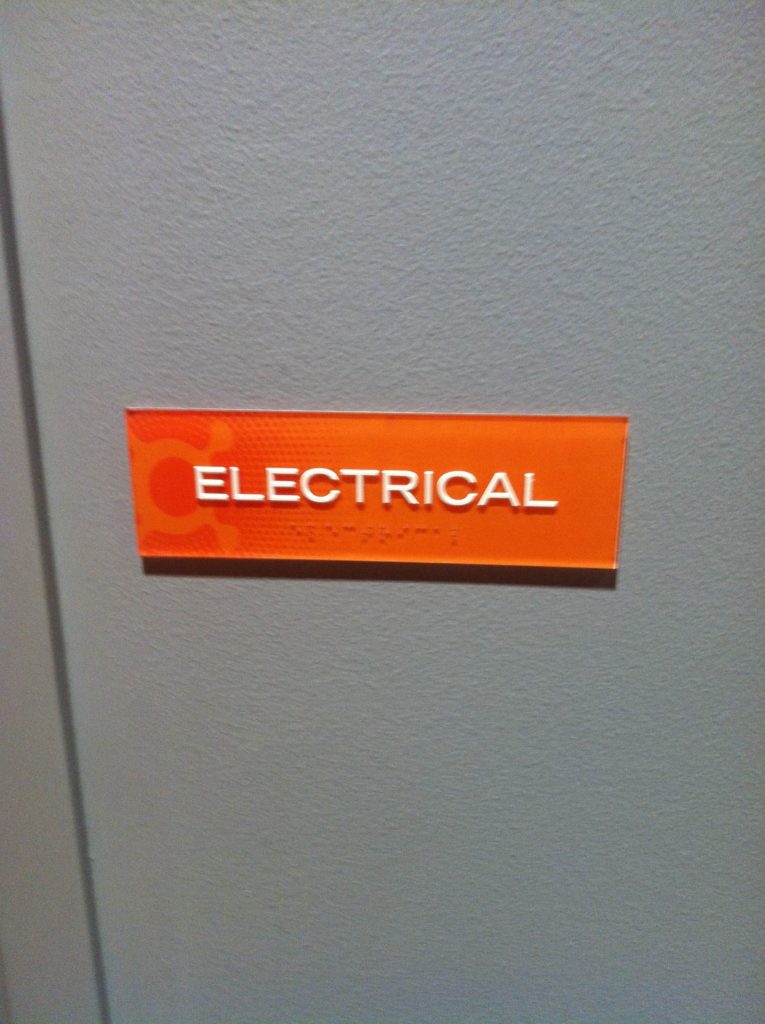 The law mandates that a business open to the public must accommodate the needs of disabled customers. Concerning signage, a company has to feature three types of markers that meet the standard.
Wayfinding signs. Help visually impaired customers or clients navigate your venue. Spell out the locations of various amenities with a compliant font, color contrast, and Braille II dots.
Directional assistance. Emergency signs that assist during evacuations must be easy to find, read, and understand for the visually impaired.
Room labeling. Permanent room assignments should feature labels that alert consumers to what they will find behind the door. Not only does this make the navigation of your locale a lot easier, but it is also invaluable in the case of an emergency.
Get Help with ADA Signage in Southlake TX
Whether you are getting ready to open your doors for business or you are currently already welcoming customers, we can help you ensure full ADA signage compliance. We routinely work with clients who are unsure that their locations display all the needed signs. Our technicians understand the law's requirements and gladly visit your company to take an inventory of the signs you already have.
We catalog the types of signs you display, ensure proper mounting locations and specifications, and check for appropriate font and color contrast usage. If we notice any problems, we mark them down so we can put together a report of the signs you have, those that may need a little tweaking to get into compliance, and those products that you are still missing. From there, it is easy to get into compliance with the right markers.
Include Corporate Colors and Style Elements in ADA Designs
There does not have to be anything typical about the ADA signs you put into your venue. In fact, standing out with them, while making them fit in with your overall ambiance, is possible.
Metal plaques. Cast metal plaques allow for the three-dimensional letters and Braille II dots while adding pizzazz and style to any setting.
Vinyl overlays with corporate images. Adding subliminal images to vinyl overlays allows for branding even as the color itself produces the mandated contrast.
Sandblasted HDU signs. High-density urethane makes an excellent impression and is another perfect contender for 3D lettering, images, and dots.
Call us today to find out more about ADA compliant signs in Southlake!