Returning readers of our blog will remember the name EFG Companies. Located in Irving, business had gotten so good that the firm just recently expanded its office to take up the fourth floor of its current building. At that time, the professionals needed frosted window privacy film for the location's entry doors to prevent onlookers from distracting workers. We were glad to help. When the client called us back, we got a request to put in an aluminum lobby sign in Irving TX.
After consulting with our client, we designed a product that consists of customized aluminum shapes for a three-dimensional lobby display. We used one-quarter-inch aluminum with a brushed finish surface. Our technicians cut the material into the company logo's iconic form and added the letters in their different fonts. Once flush-mounted to the green wall, the sign expresses the company's brand message and beautifies the space in the process.
Putting the Client in the Mood to do Business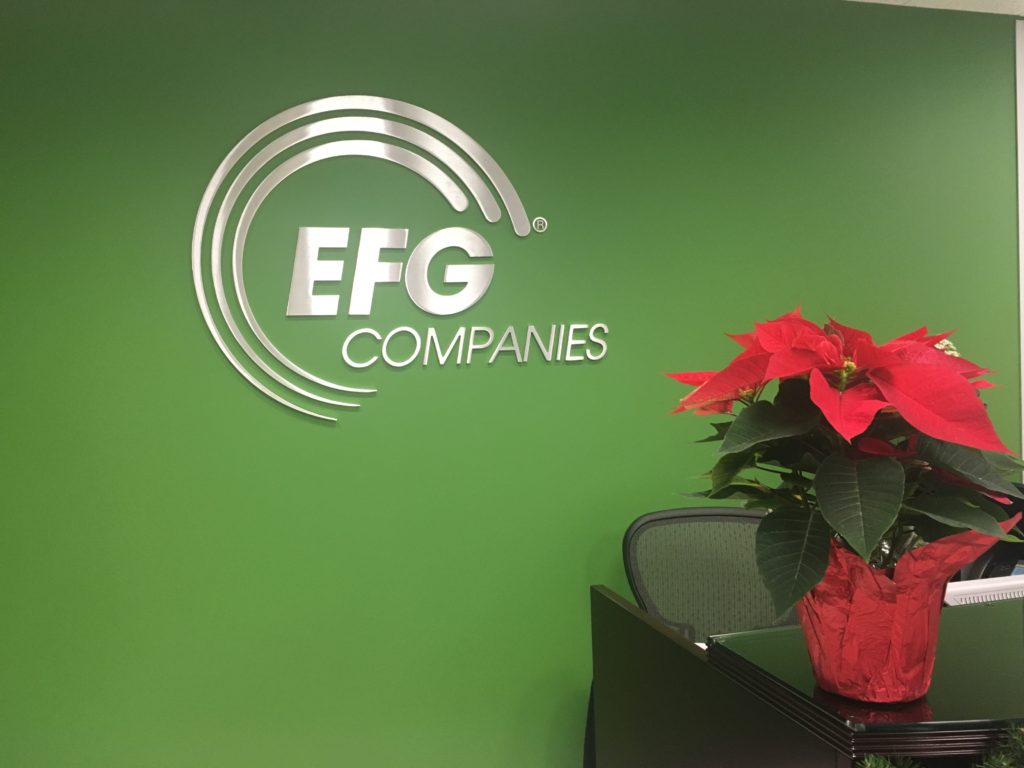 Using signage to increase the likelihood that a customer will do business with your company can be as easy at selecting the right product for your lobby wall. This marker sets the tone for the display of other signs in the office. It also tells a customer what your firm is all about. It reveals the approach to success you favor. For example, a law firm that prefers a traditional take on advocacy will do well with a set of dimensional metal letters, preferably in a gold or bronze tone.
Conversely, a business that wishes to highlight its innovative nature and out-of-the-box thinking should consider the investment in an acrylic logo board that features the name displayed with a direct imprint. When you like to hedge your bets, consider the commission of a logo board with a printed vinyl overlay, which allows you to change the look of the name's display simply by adding a new overlay. Business clients who anticipate a rebranding shortly usually choose this alternative to continue maintaining a strong brand presence in their lobbies at all times.
How to Order a Lobby Sign
Whether you need an aluminum lobby sign in Irving TX, or favor the appeal of an acrylic logo board in Dallas, Fort Worth, Hurst, Coppell, Lewisville, Grapevine, Flower Mound, or in any of the surrounding cities, we can help. The professionals at High Value Signs have built a solid reputation for having the ability to encapsulate a company's brand message into the lobby sign via material selection, mounting style, and overall manufacturing technique.
When you contact us for a client consultation, we gladly visit your location to take measurements, make a note of color match requirements, and get a good feel for the overall tone of your already existing signage. Unless you want to redo these markers, we will collaborate with you to put a sign design in place that underscores their overall brand message and ties in with your interior décor.
Call us today to schedule an appointment and find out what this means for you.