If there is one signage solution that business clients spend a lot of time considering, it is the lobby sign. Because it is the wall-mounted equivalent of the business card, it has to get the brand message just right. Moreover, since it is frequently the first impression that a client forms of your office space, there is no do-over. Get company logo signs right the first time, or lose the opportunity to impress.
Amtech Solutions Opts for a Sophisticated Presentation with Brushed Metal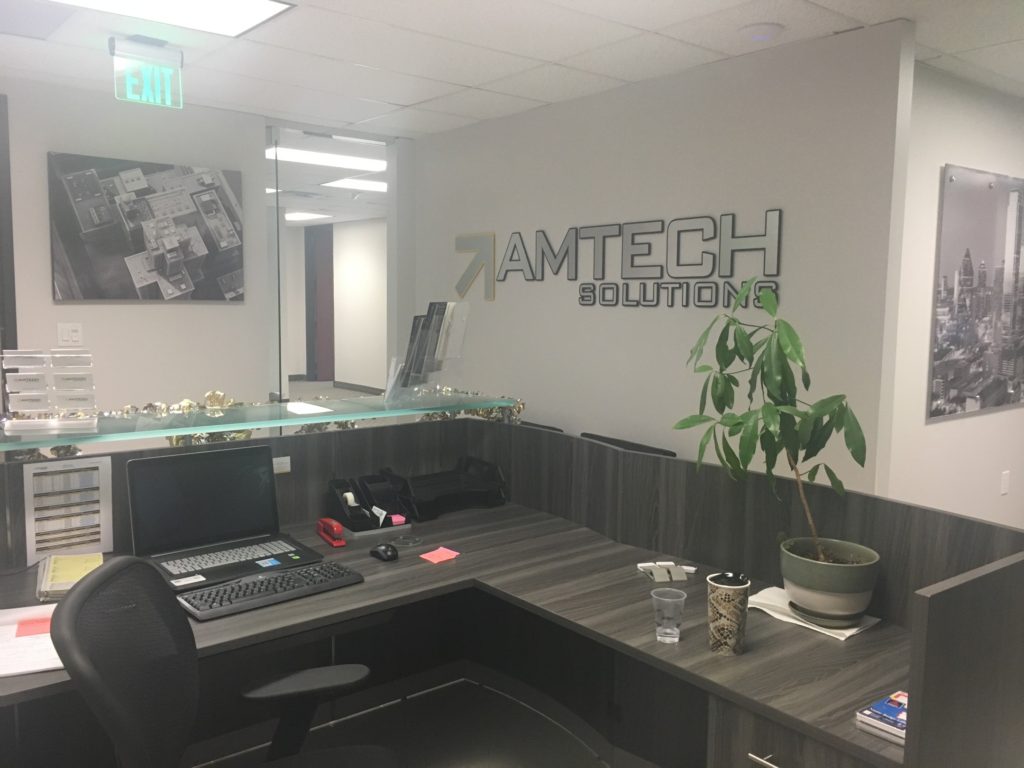 You may remember the work we did for Amtech just recently. When the company needed wall graphics in Dallas, TX, for its workspace, we replicated the look of the logo with vinyl. For the reception area, the company chose a brushed metal appearance that perfectly imitates the online presentation of the logo and lettering. The sign's layout using dimensional letters underscores the sophisticated setup of its lobby with black and white prints, light-colored walls, and furnishings to match. The sign ties together the area's overall ambiance.
On-Site PC Services Highlights Innovation with an Acrylic Logo Board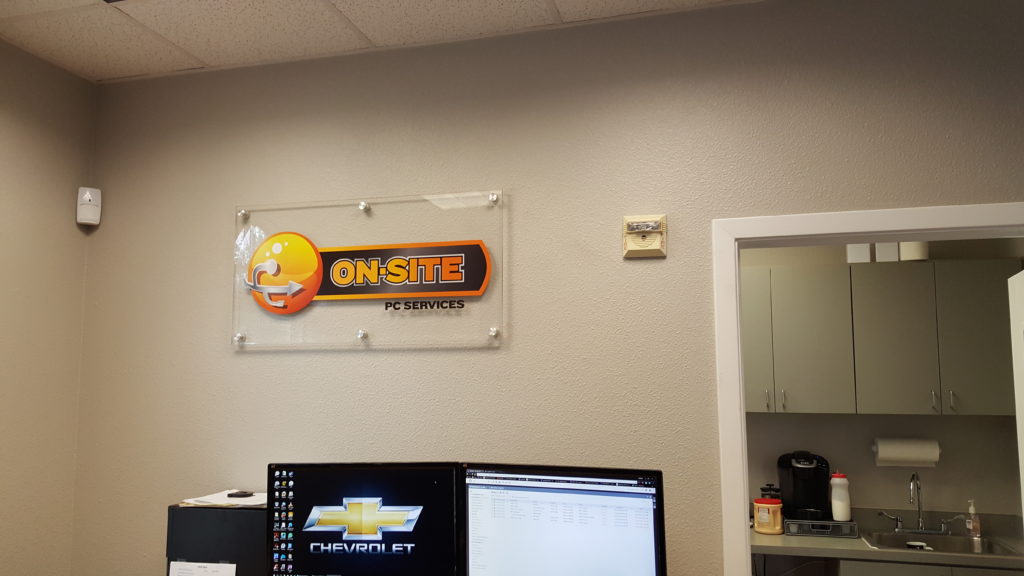 In Southlake, TX, we worked with the management team from On-Site PC Services on a custom logo sign that brings a sharp look to the setting. Its design started with a clear acrylic panel to which we then added a high-quality vinyl print. We mounted the product with standoffs. The combination of professionalism and contemporary chic is not lost on the client who visits the location. Also, it highlights the innovative nature of the business as communicated via its logo presentation.
Making the Most of Your Brand Message with Logo Signs
Much more than just a functional product that looks nice, too, these lobby signs exemplify what happens when you give the consumer an insight into your business model, attention to detail, and overall brand message. For one business, it is the aspect of sophistication that draws in the targeted customer demographic; for another, it is an impression of contemporary chic.
Since each business has a distinctly different need, the manufacturing methods and display options differ as well. For example, you might choose to follow suit and present your information with dimensional metal letters or an acrylic logo board. But this setup does not work for everyone. Someone else will do better with a metal board that displays a high-resolution logo imprint with dimensional lettering fashioned from PVC. Still another business will benefit from a three-dimensional display featuring sign foam with optional laminates.
When you want to go for the gusto, there is also the modern trend to include built-in LEDs that are part of the design process. Conventional design features include metal sign bodies with push-through acrylic letters, scaled-down lightbox cabinets or channel letters, or acrylic panel presentations with light sources mounted right behind them and hidden by a logo imprint. As you can see, there are plenty of design options open to you.
To find out what types of company logo signs could be instrumental in making a great first impression at your business, discuss your ideas with one of our graphic artists! Or alternatively, if you want to design it yourself or have a play around with what types of designs you like, check out a logo maker to see how you can go about that.