Located at 13601 Preston Road, Amtech Building Services is in the business of property condition assessment, architectural consulting, and outlay calculations – among other services. When this company, which is headquartered in Richardson, needed something to brand its location's interior that would bring an aesthetic angle to the mix, the firm's management team contacted our experts for assistance with wall graphics in Dallas TX.
Add Color, Interest, and a Brand Message to a Location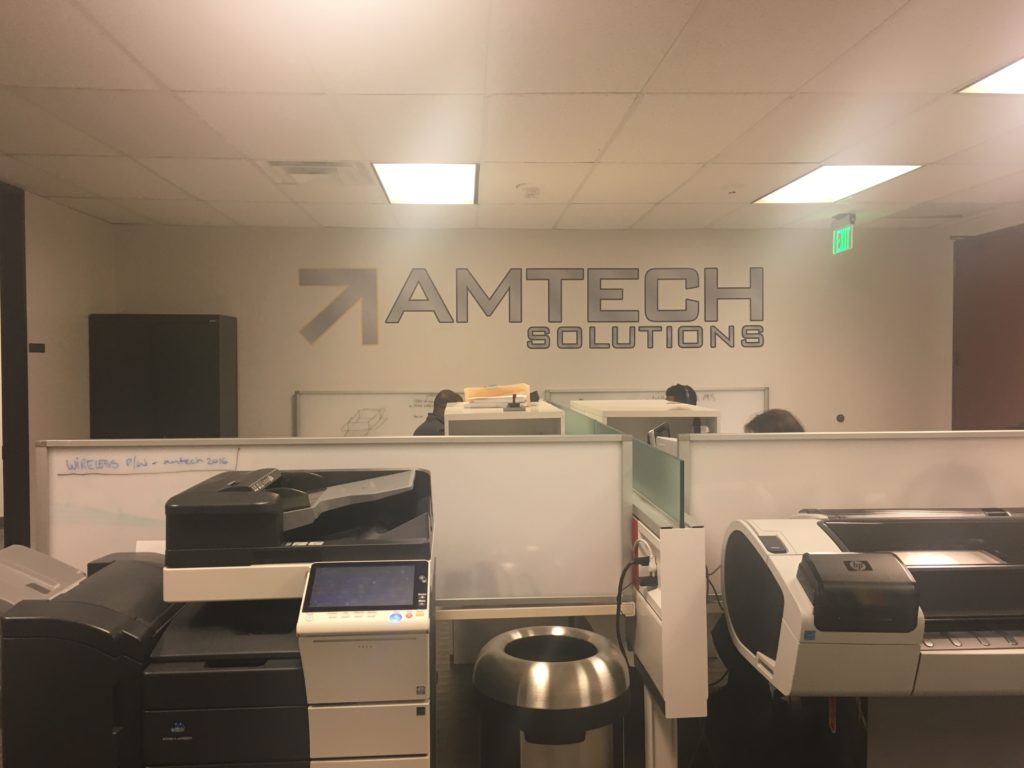 After consulting with our client, we visited the work area and took the needed measurements. We designed a rendition of the company's logo that fits on the upper third portion of the wall's surface. There, it presents perfectly centered. The client chose a gray rendition of the corporate name for the display. Adding a black border around the letters, and a yellow border for the logo portion, the appearance reminds of the logo's online presentation. After we installed these style elements, they now combine to add a splash of the color to the workroom while also presenting the brand message.
Look to Vinyl Lettering and Graphics for Inexpensive Ways to Dress up Any Flat Surface at Your Venue
The display of your company's name and logo is only one option when investing in vinyl letters. Another choice can be a quote by the business' founder. In fact, there are quite a few ways that you can harness the affordable ways vinyl wall graphics add to the ambiance of an area.
Tell your company's story. Combine images of the business' early days with a narrative that explains notable highlights in the operation. If you have been around for a long time, we can feature sepia-tone photos for the earliest mentions, graduate to black and white images, and then finish the presentation with full-color shots. This type of project is ideally suited for a hallway or other long wall.
Impress investors and clients with expansion plans. Typically, customers ask us to put something impressive on their conference room walls. One example could be a world map that features pin dots locating the present day setup and flags with the launch dates for future expansions.
Create brand buy-in for employees. Of course, you always need to have your employees on board, no matter what your brand message might be. By focusing letters and graphics on your customer care and product quality sections of the handbook, you can dress up the walls of the training room as well as any work area. Because it is likely that investors and members of the media also see these places, you make a great impression on the public as a whole as well as create the brand buy-in opportunity for workers.
Do You Still Need Wall Graphics in Dallas, TX?
Whether you have a logo that could be an outstanding addition to your call center's primary work area or you want a motto rendition for your office's lobby, we can help. Our graphic artists routinely work with businesses from around the area to put together winning designs that beautify spaces while giving the nod to their brand messages.
Call us today to learn more about your options!