McNeff Commercial Real Estate is an organization with a far-reaching reputation in its niche. Well known for demanding the highest standards of its properties while keeping a close eye on budget adherence, this business champions stability in a market that has plenty of ups and downs. When the company's representatives contacted our graphic artists at High Value Signs & Studio to discuss a signage-refurbishing project, we were excited to get on board.
Renovating a Multi-tenant Post and Panel Sign
Now featuring a refurbished sign in Dallas TX, the property is located at 2115 Teakwood. The product displays off-white posts with ornamental toppers. Gray tones add definition to the individual panels that make up the tenants' listings. The contrast between the gray and white is elegant and eye-catching. To enhance wayfinding for prospective clients interested in leasing space at this venue, we added an address panel to the top of the sign while the leasing office's contact information rounds out the display on the panel's bottom portion.
Refurbishing Signs Saves Money and Gives any Property new Curb Appeal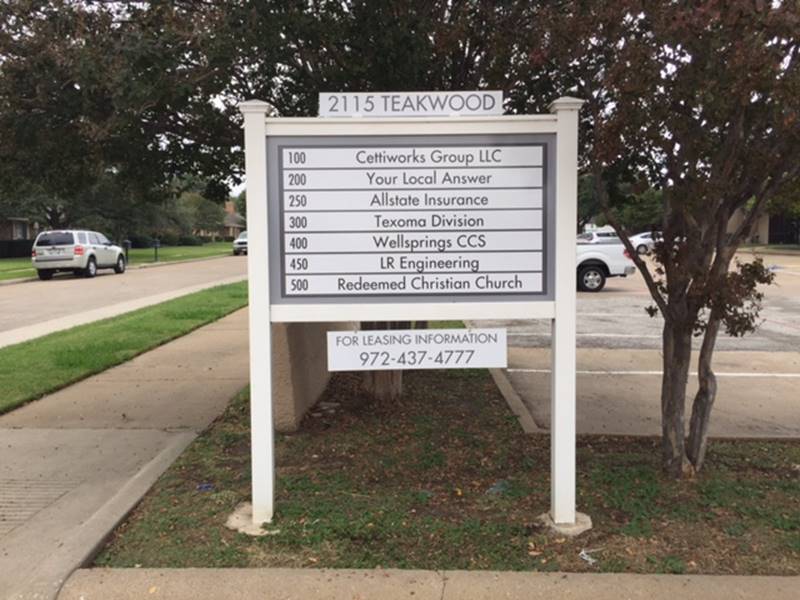 Because of the advances in sign-making technology, the majority of products now have a long useful life. Even so, exterior signs, in particular, have a need for occasional renovations and upgrades.
Repairs. Things loosen over the course of time. The wind, exposure to rain, and overall wear cause some of a sign's movable parts to come undone. When this happens, the marker begins to look dilapidated. Parts may hang down or get lost altogether. Our technicians quickly repair the loose parts and replace any items that have gone missing.
Replacing parts of illuminated signs. If you have ever driven past a store's building sign and have seen half of its message illuminated and the other half left dark, you know that it is high time to fix the lighting. Wait too long with this project, and your company's image suffers.
Updates. Since your signage now lasts longer than ever before, it is not uncommon for tenants to change before it is time to switch out your suite signs, building markers, or monuments. There is no need to invest in new products every time there is a change in a building's occupants. Instead, let our graphic artists help you refresh the existing signage. In this way, you save money by only paying for the installation of the new tenant's information.
Do You Need a Refurbished Sign in Dallas TX?
Contact our experts to discuss your sign project. Whether you have moved to a new location with a lightbox cabinet setup already mounted to the façade, or you are a management company representative who is refitting signs after a switch in tenants, we can help. By refurbishing rather than replacing the products, you keep your sign budget intact, do not spend any funds that are not necessary, and capitalize on the longevity of signage materials that may serve you well for years or even decades to come.
By the way, we can upgrade some of your existing signage solutions with stylish avant-garde or classical retro elements. Call us!