Located at 610 North O'Connor Road in Irving, TX, the newest branch of the Apex Homecare company just opened up. The business provides home health care solutions for the Dallas/Fort Worth population. Before the latest location opened its doors for business, the general manager contacted us and asked for help with a roof sign in Irving TX.
However, this was not an ordinary job. For starters, the building that the business had moved into already had an existing cabinet on the property. Trying to save money, the manager wanted to re-use the cabinet. This is not an unusual request because plenty of business owners move into venues with pre-existing signage such a box cabinets, monuments, and changeable directories.
We started by investigating the overall shape the sign was in. Looking for safety and zoning issues, we found none. Confident that we could spruce up the product and turn it into a marketing and branding tool for Apex Homecare, we accepted the task. Because our client did not require a lit building sign, we could save him even more money simply by refurbishing the cabinet and installing the customized facing with the business' name, logo, and contact information on it.
Roof Signs? We Do Those!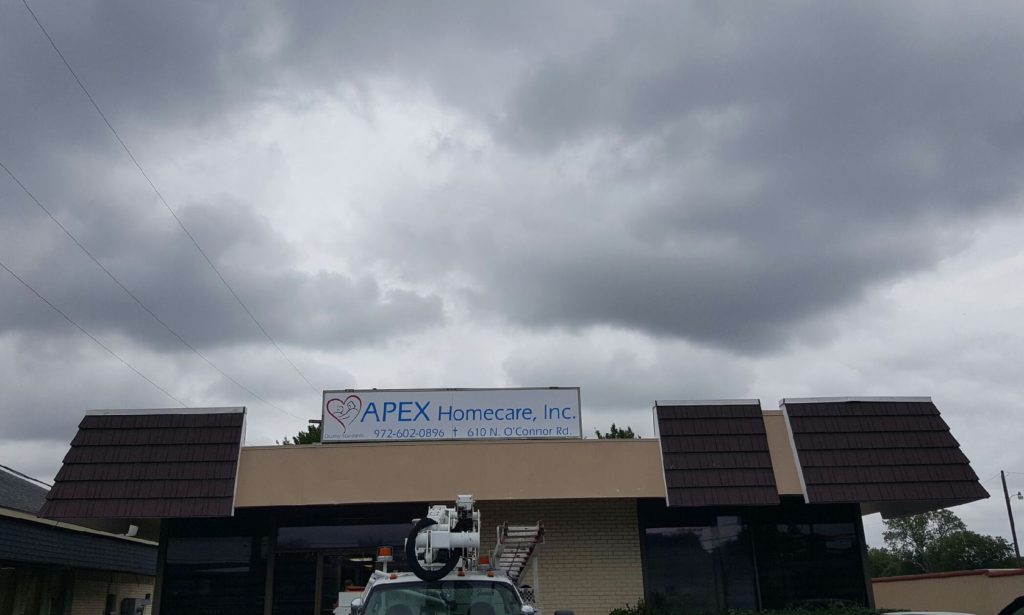 When local zoning rules permit the use of roof signs, you have an excellent location for advertising your business.
Stand taller than competitors do. The box cabinet on the rooftop of Apex Homecare allows the marker to appear above the façade. This position allows the building to be visually taller than those around it. Not surprisingly, this setup allows the sign to be seen from a larger distance.
Catch the eyes of passersby. Because roof signage is still considered unusual, its display puts an extraordinary spin on your advertising message. Passersby cannot help but notice your setup.
Use supporting signage lower on the building. When you look at Apex Homecare's façade, you notice that there is a blank space between the sign and the entrance. This spot is ideal for banners, wall graphics, and other temporary marketing messages that will support the advertising and branding of the building sign.
Saving Money with Refurbished Signage
Should you spend extra money to outfit your location with new signage? If there are no pre-existing markers in place, the answer is, of course, yes. But if there are some signs left over from the outgoing tenant, we urge caution. You have the potential of saving a significant amount of money that you can put into outfitting the company, building out as needed, and advertising your business.
Additionally, the money you might save on constructing new signage from the ground up may go into upgrading the customized components. In short, you may end up with a more attractive building sign just because you chose to refurbish rather than to buy new. Nevertheless, before you make this decision, invite our experts to come to your location and evaluate the product for safety. There is little to be gained if you overhaul a sign at a cost that would allow you to get something brand new.
Whether you need a refurbished or brand new roof sign in Irving TX, we can help. Contact our experts today to schedule your consultation appointment.