When Jim Bryce & Associates relocated to 10580 Newkirk Street, the firm set up its business in a light industrial location. The venue is excellent for the company's needs, but has one drawback: the buildings on the property have a very similar appearance. Visitors, as well as delivery drivers, would routinely get lost. For this reason, the company's management team contacted the pros at High Value Signs & Studio to discuss exterior building signs in Dallas TX.
A Non-illuminated Panel Sign Meets Everyone's Needs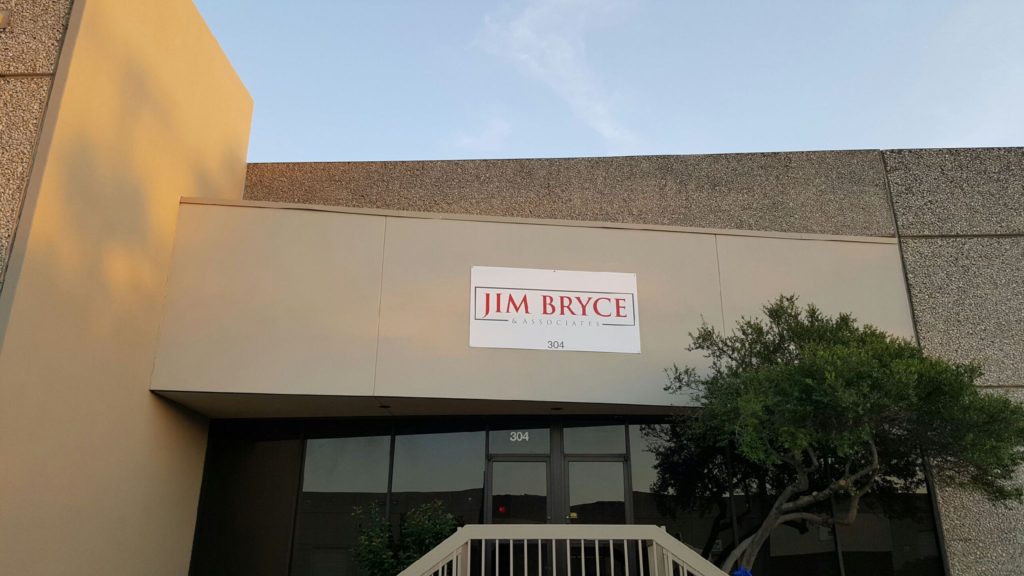 During our consultation with the client, it was decided that we would design a non-illuminated panel sign. Once we had put together the look, we had to get three separate entities to sign off on the proposal.
Client. Before going any further, we submitted a proof to the customer for approval. After reviewing the proposed sign's appearance and material selection, the client approved the plan.
Landlord. The building's owner or management company is the next entity to sign off. Commercial leases frequently feature a signage clause that spells out markers that are okay to install. We submitted the proof to the property owner for authorization and received it.
Zoning department. Lastly, we contacted the zoning department and filed the paperwork needed for a permit. This is a crucial step that requires detailed scale drawings and plenty of information about this location and its surrounding neighbors. Since we know the rules set forth by this government agency, getting the permit was no problem for our experts.
With everyone's signatures gathered, we manufactured the product and installed it above the company's building entrance. The panel spells out the company's name and the location's suite number.
Taking Advantage of Panel Signs
The board sign looks deceptively simple. In fact, it is an excellent branding tool for the business that uses it as a building sign. The installation above the entryway is only one possible mounting location. The same applies to the rectangular shape and size. For example, did you know that we often manufacture tall, rectangular signs we install in a vertical manner to the side of a building? Depicting a business' name and logo as well as niche-specific information and graphics, these markers tell a story about the company. You frequently notice these types of signage solutions on the sides of breweries, pubs, or restaurants.
Do You Need Illumination?
Typically, it makes sense to have a lit building sign. Examples include lightbox cabinets and channel letters. That said, some companies do not necessarily require lighting. For example, if you do not receive deliveries and clients after dark, there is no reason to opt for an illuminated product. Sometimes, building lights or landscape spotlights are also part of the overall locale setup; they can make signs with LEDs superfluous.
Of course, before you make up your mind about ordering a lit or unlit exterior building panel sign in Dallas TX, contact our graphic artists for assistance. We work with you to determine the best signage solution for your location and company. Call us today to schedule your consultation.